We invest in South Sound 2-1-1 to offer Diversion to families as a method to end their homelessness quickly.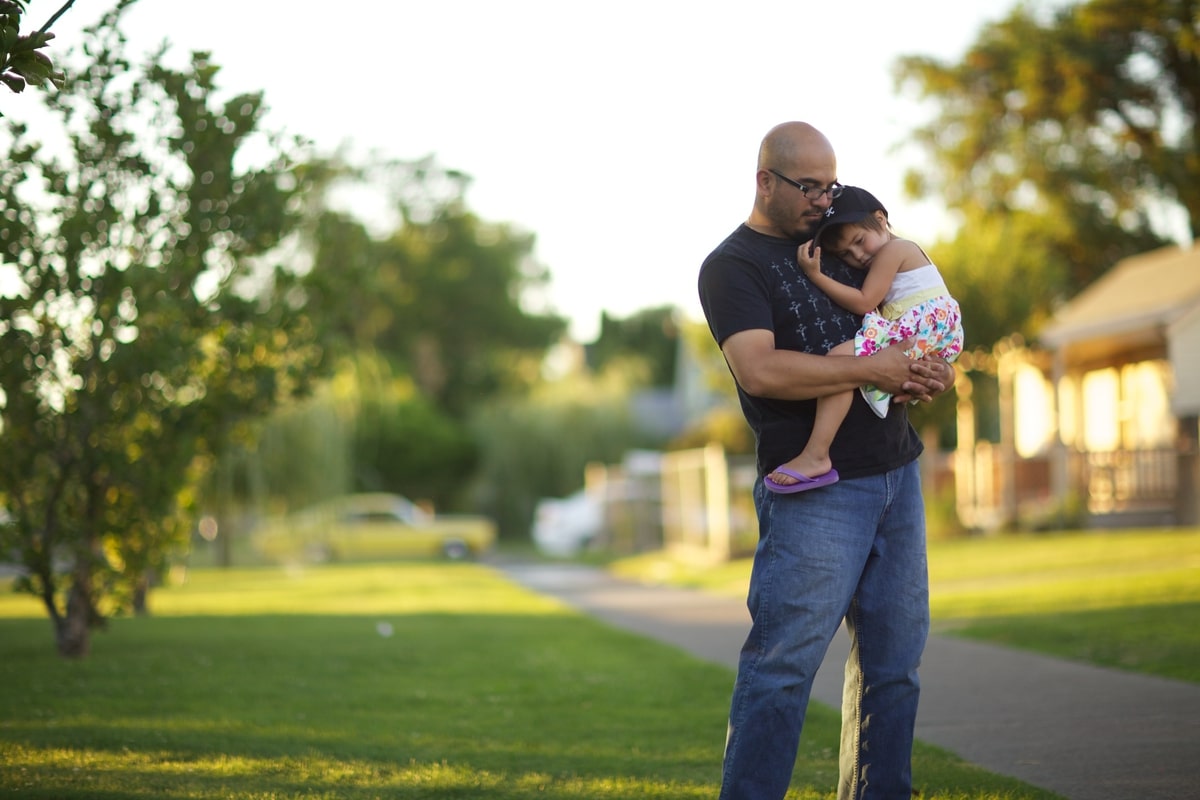 Newly unemployed, Allen took on whatever odd jobs he could find in order to keep his family housed. The slow trickle of income wasn't enough, however, and he no longer could afford rent. The single father and his two school-age children became homeless. Allen slept in a car parked behind his friend's house as his children shared the bedrooms of his friend's kids.
"Things just became almost unbearable," recalled Allen, a military veteran. "I'm so thankful for my kids and the support and encouragement and understanding they had with our situation."
Despite a string of setbacks, including an accident that totaled his car, Allen eventually found a new job and saved a bit of money. Landlords nevertheless denied his three straight attempts to find a new place for his family to live. Conjuring up the little hope he had left, Allen called South Sound 2-1-1, a telephone hotline operated by United Way of Pierce County that connects people to a wide array of community services designed to help them become self-sufficient.
"I initially didn't think I would receive any help by dialing 2-1-1, but I called anyway," Allen said.
He asked about any housing that might be available for his family. Understanding the harsh reality of the scarcity of housing provided through the homeless system, the 2-1-1 phone specialist veered Allen in another direction, engaging him in a brainstorming conversation focused on self-driven solutions to resolve his family's homelessness quickly and safely.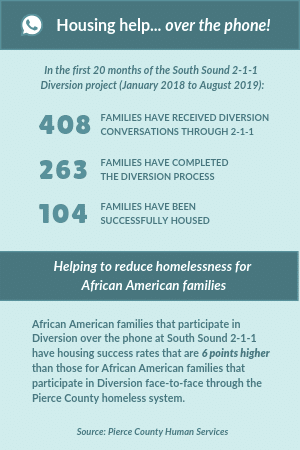 Building Changes helped make this problem-solving telephone conversation with Allen possible. A project we launched in November 2017 has adapted the homelessness intervention strategy of Diversion to the phone lines of South Sound 2-1-1. Diversion is a proven successful approach for helping families identify and secure immediate options for housing within their own realm of resources and resilience. We consider Diversion a crucial tool in the fight against homelessness because it provides hope to those who otherwise might never receive housing support from the overburdened homeless system.
Over the past several years, Building Changes has made an effort to reach more people who search help to end their homeless crisis by introducing Diversion to the variety of settings where they typically seek services. In Pierce County, those additional access points include South Sound 2-1-1, along with emergency shelters, food banks, and a prenatal/infant health program for vulnerable pregnant and post-partum women. By bringing Diversion to 2-1-1, Building Changes is building the capacity of a provider already well established in the community, as well as helping to streamline a complex system by making it easier for families to resolve their homelessness through a single phone call.
They use us to gain perspectives, but ultimately they are the ones making the choices on how best to get housed.
"Too often, people get pushed around from one system to another and their life becomes a list of instructions that don't always make sense," says Stina McLamore, a South Sound 2-1-1 housing solutions navigator. "Some people feel much more comfortable talking about their lives over the phone. We truly listen to the people who call and remind them of their own strengths. They use us to gain perspectives, but ultimately they are the ones making the choices on how best to get housed."
South Sound 2-1-1 helps make sure those choices are well informed. Staff can dig into 2-1-1's extensive referral database of community services ranging from childcare to transportation to employment services—all supports that can help families transition successfully out of homelessness. If necessary, staff also can dip into a special Diversion financial assistance fund to help families pay for initial rent, security deposit, utilities, car repair, food for their kids—pretty much anything, big or small, that can help them triumph over homelessness.
"We really try to connect to the callers so we can dig deeper into the causes that have led them to become homeless," says Dannielle Robertson, a 2-1-1 specialist. She says that before 2-1-1 added Diversion to its toolbox, staff helped callers by referring them to services elsewhere. "Now, we are with them through the entire process, and we hear back when we get a family housed. It keeps us going knowing that we've made an immediate impact on their lives."
Allen credits 2-1-1 for assisting him in his journey from being homeless to being housed. "I was accepted into a townhouse and I took my entire paycheck and used it to move us in. We had no food and no furniture but we had our own place. My kids were happy, which is all that mattered to me. I told myself that we'd struggle for a little while but I would do everything I could to get us on our feet."
Allen's 2-1-1 specialist referred him to food banks to help feed his family, and also dipped into a Diversion flexible financial assistance fund that exists to help ease a family's transition out of homelessness. Money from the fund, which most often goes toward initial rent payment and deposit assistance, helped Allen furnish his new place with used furniture provided through United Way of Pierce County and other household goods. Allen says his 2-1-1 specialist not only was "helpful and instrumental in getting us resources, but she was kind, understanding, and sympathetic to our unique situation—and that was something I hadn't gotten from anyone any time I tried to get assistance."
Note: The subject of this story's name was changed to Allen to protect the privacy of his family.