Grantees are helping us understand findings from a multi-year study of homeless families with high needs.
Building Changes is actively engaging with grantees across the state to share findings from the Washington Youth & Families Fund High-Needs Family (HNF) Evaluation and to gather their insights and learn about the human story behind the data. The evaluation, a multi-year study conducted by Westat, is helping Building Changes and our field understand the needs of homeless families with multiple barriers to stability and their experiences in supportive housing.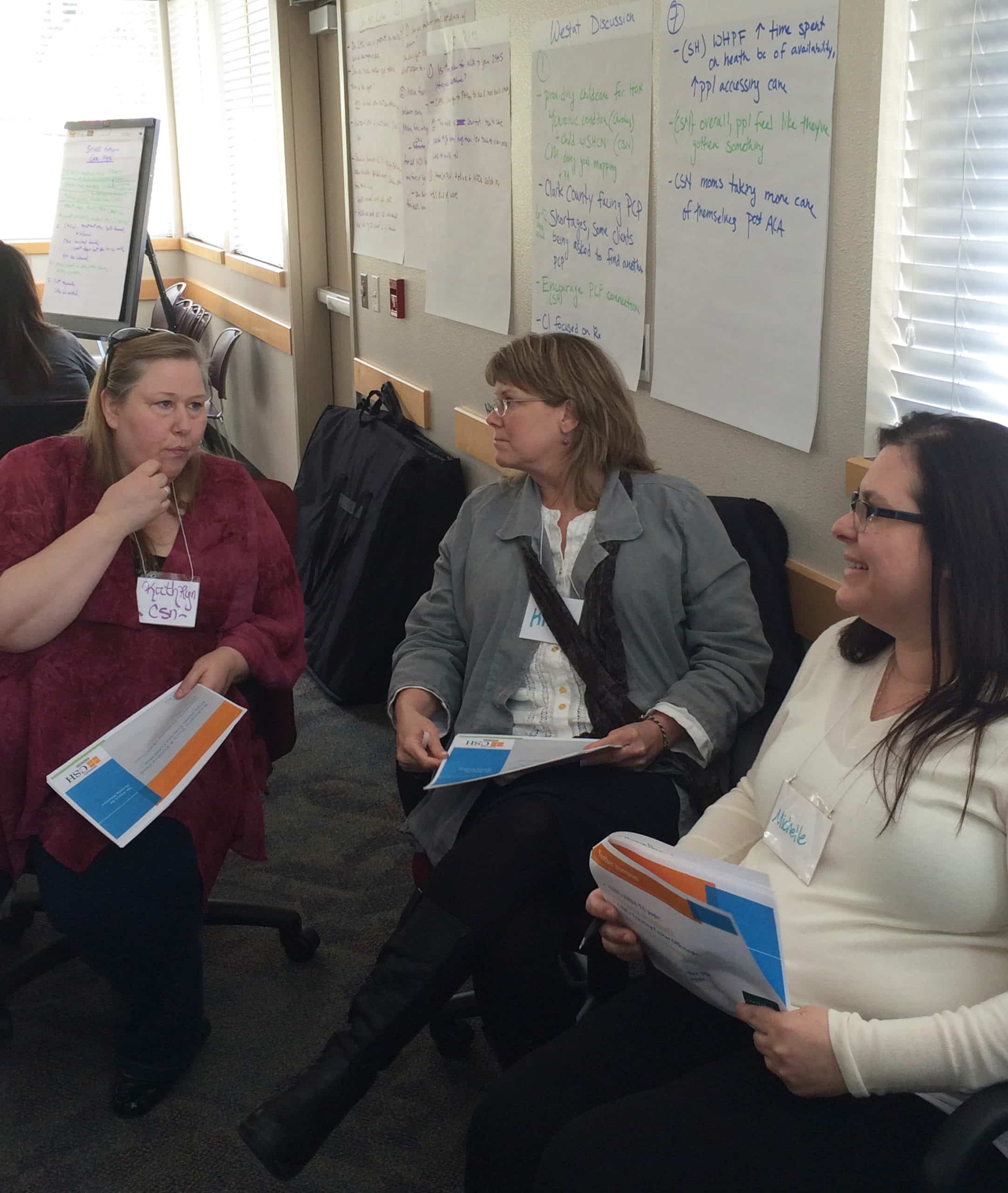 (l to r) Kathryn Burr, Crisis Support Network; Kim Leach, Serenity House of Clallam County; Michelle Quesada, Community Services Northwest
In the first of three regional convenings focused on connections between housing and health care, we met with Serenity House of Clallam County, Crisis Support Network, and Community Services Northwest, HNF grantees in Western Washington. Building Changes staff presented preliminary findings from the evaluation about changes in families' physical and behavioral health a year after entering permanent supportive housing. Grantees then offered insight into those changes, including the benefits and challenges that families experience as they seek treatment for health needs.
We also brought other voices to the table. Spokespersons from managed care organizations described the services they offer to help families more easily access care. A representative from CSH shared best practice models for housing and health care collaborations in other states. A recent article by Deborah De Santis, Persident and CEO of CSH, highlighted this work as a regional example of community health center and supportive housing partnership.
The next convening will be targeted to grantees in King, Kitsap, and Snohomish counties, before a third gathering in Eastern Washington. A final statewide convening will be held at the end of 2015 to share and explore complete findings from the Washington Youth & Families Fund High-Needs Family Evaluation, including a cost analysis of the model.