Liza Burell, Program Director
The value of equity must permeate through every practice, policy, and funding decision related to family homelessness.
Over the past decade, Building Changes led the Family Homelessness Initiative (FHI), a focused effort to create high-performing homeless systems in King, Pierce, and Snohomish Counties. Supported through a sustained financial commitment of the Bill & Melinda Gates Foundation, Building Changes assisted in the design and implementation of 79 projects totaling $29.8 million, working with the three counties and their community-based providers to improve experiences and outcomes for families engaging with the systems.
Some of those projects worked, and some did not. We often learned just as much from those that missed the mark, however, because they helped us understand the role that a homeless system needs to play.
In that role, the system caters to the individual needs of the families it serves, as opposed to requiring families to fit within the rigidities of the system's own construct. In that role, system leaders take proactive steps to achieve the goal of an equitable homeless system for all families.
For much of its 10-year lifespan of FHI, I had the honor of leading FHI for Building Changes, first in Pierce County and later for the entire tri-county region. I come away from the experience proud of our successes, and resolute in my understanding that the value of equity must permeate through every practice, policy, and funding decision related to family homelessness.
Addressing racial disproportionality and disparities is crucial for a homeless system. Here in Washington, 30% of all families experiencing homelessness are Black, yet Black families make up only 4% of our state's total family population. The situation is similar for American Indians, who account for 5% of all families experiencing homelessness but only 2% of the total family population.
The greatest regret I have about FHI is our failure to address racial equity from the outset. We initially treated it as an afterthought instead of the basis from which all projects need to flow. Admittedly, we have a long way to go to create equitable homeless systems, but I'm pleased over the past few years to have seen progress among all three FHI counties in sharpening their focus on racial equity.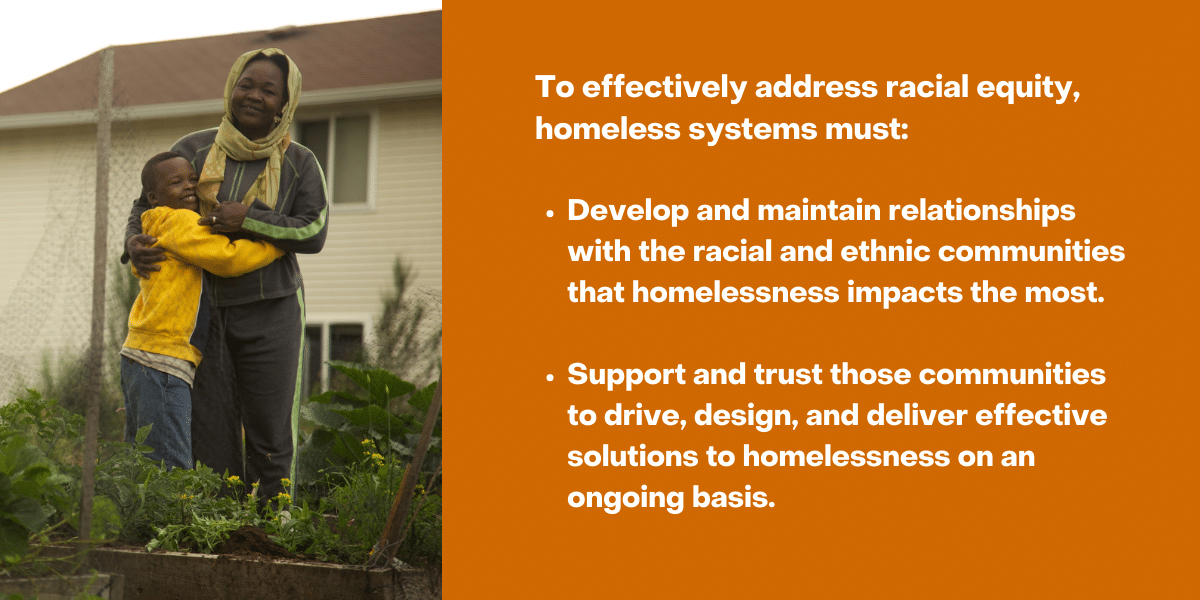 In pursuit of creating equitable and effective homeless systems, FHI contributed significantly to our knowledge base of what solutions work best for families. For example, FHI supported the continuous improvement of Rapid Re-Housing (RRH), an evidence-based, Housing First intervention that quickly connects households experiencing homelessness to housing in the private rental market. The embrace of RRH moved systems away from transitional housing, an expensive intervention that served few families and yielded poor permanent outcomes. In contrast, RRH serves more families—and in a much more responsive, tailored, and humanistic way.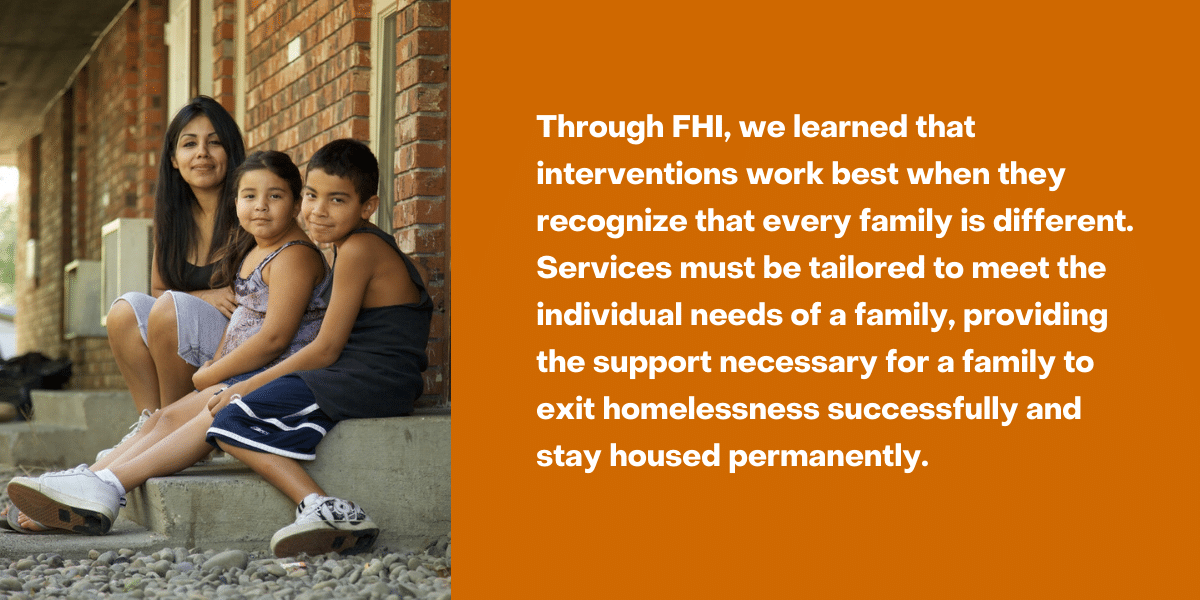 FHI also supported the development and scale-up of Diversion, an innovative approach that gives homeless systems another tool to serve even more families more quickly. Diversion helps families identify and obtain housing that is readily available through their own support network, rather than having to wait for housing from the homeless system that—due to inadequate resources—may never materialize.
Diversion puts real dollars in the hands of real people, in the form of flexible funds, to address the real problems that get in the way of households becoming stably housed. One of the beauties of Diversion is how it supports families to recognize and celebrate their own strengths. I credit Pierce County decision-makers for their pioneering leadership in embedding Diversion at the front door of the county's homeless system.
I also am proud of the Centralized Diversion Fund (CDF), a project that originated through FHI support. CDF has helped to bring Diversion to scale in King County, supporting more than 800 families, individuals, and young adults successfully exit homelessness and impact racial disproportionality at the same time. Unfortunately, funding for the CDF thus far has come almost exclusively from private sources. CDF is an example of a solution to homelessness that works, yet inexplicably fails to get the public funding it deserves and needs in order to be sustained.
As FHI sunsets, I want to thank the Gates Foundation, each of the three counties, and all of our FHI project partners—in particular the organizations led by Black, Indigenous and other people of color that have helped us understand the human impacts of racial and ethnic disparities, and guided us on how those inequities can be addressed most effectively. They include: Africatown International (which operates the CDF), Mother Nation, Chief Seattle Club, Somali Youth and Family Club, Muslim Housing Services, Multicultural Child and Family Hope Center, and the Tacoma Ministerial Alliance.
Building Changes has benefited from our relationships with these organizations as much as they benefited from our investments. That, too, is another powerful takeaway from FHI.